Description
Top output for circulation and oxygenation, constant bubbles for a gentle
Slow : Convenient plastic chamber allows for quick and easy access to filter cartridge for maintenance or replacement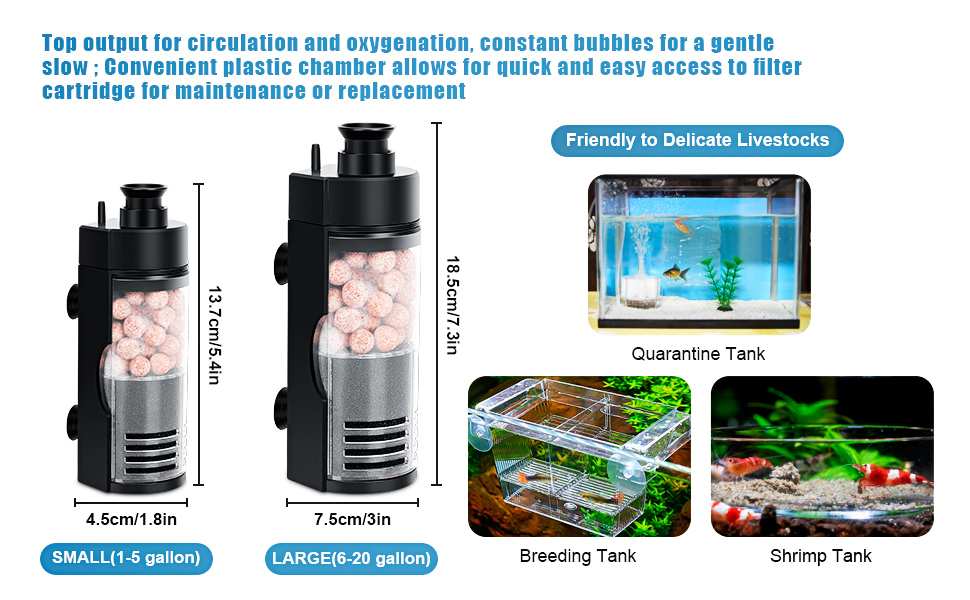 How does a bio sponge filter work?
Attached a sponge filter to a 3/16 inch airline to an air pump( at least 2w), constant flow of air bubbles rise up from the top and out into fish tank.Dirty water be sucked into small fish filter through chink, fine sponge traps fish waste, decaying plants and other debris, while bio balls provide plenty space areas for the colony of beneficial bacteia to thrive and grow, and finally push clean water out of the top of the filter. Thanks to both mechanial and biological filtrations, this small yet efficient filter filtered out sparkly clean water. At the meantime, it agitates water surface with constant bubbles.
PS: airline and air pump are sold seperately.
Features:
Mini Compact design, can be hide behind rocks/driftwoods or other decoration Mechanical and biological filtration to help keep water clear Safe for fish, won't get sucked up Bubbles agitate water gently won't disturb your pet Easy to set up & clean, simply install an airline to air pump Quiet, it is depends entirely on the pump that drives it Great for betta tank, shrimp tank, quarantine tank or fry tank Fresh and saltwater aquarium applicable
Bio Filter Media
The surface area of bio balls build up the beneficial bactea that help break down ammonia and nitrate.
Low Maintenance:
Clean sponge with aquarium water every two weeks Replace sponge it with any brand sponge, just cut to size Clean bio balls every two months, Replace partial bio balls every six onths, replenish only ⅓ at 1 time Rinse these ceramic balls thoroughly before use. Please remember to rinse them in aquarium water not tap water.
Diameter of these bio balls: 1.8 cm. You can replace these balls with same size or smaller bio balls as you want.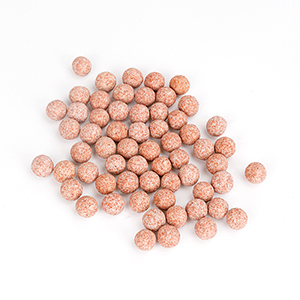 Perfect for Tiny Fragile Aquatic Creatures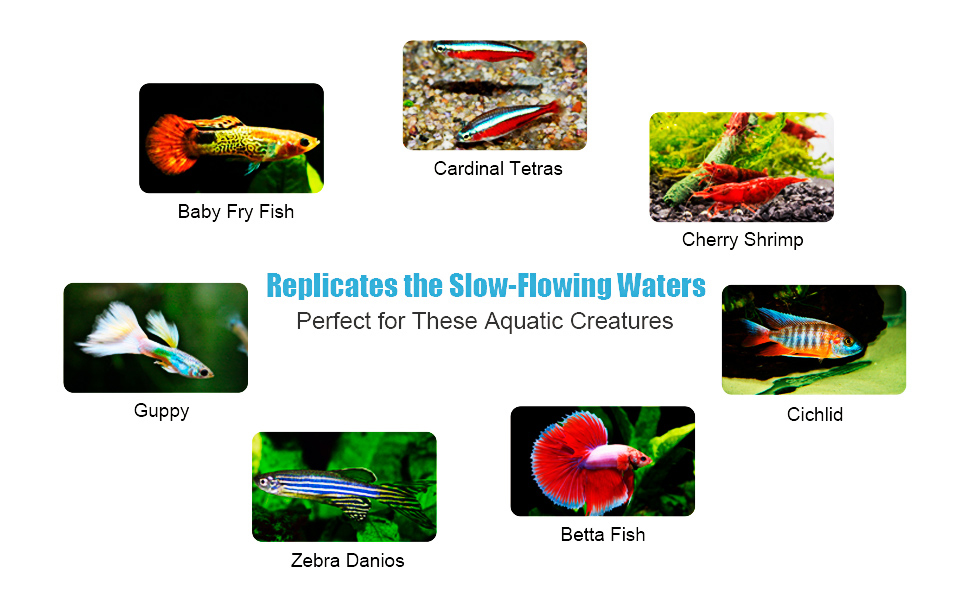 If you are looking for a tank filter that would not suck the tiny fry into filter and don't have a heavy load of debris in the water, then this is it.
Bio filter with gentle water flow is great for fragile invertebrates, such as fry fish, betta, guppy, shrimp and tetras.
Size S, measures: 1.8"W x 5.4"H, for 0.5-5 gallon tank
Size L, measures: 3"W x 7.3"H, for 6-20 gallon tank
Below image shows you how to set up filter step by step.