Description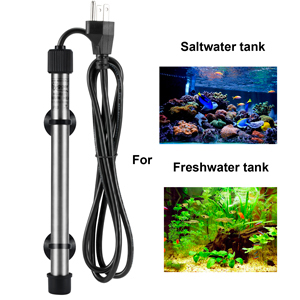 Seawater resistant titanium metal aquarium heater This metal aquarium heater tube is made of titanium, which is light weighted, durable and corrosion resistance. Specially designed for marine tank use, can also be used in fresh water.
For small size and medium size fish tank, from 5 to 120 gallon.When does the heater stop and restart heating?It will stop heating when the water temp reaches to the set temp, restart heating when the water temp is 1℉ less than the set temp.
There is a indicator light on the controller, when the heater is working the light is red, when it stops heating the light is off.
With precise digital temp controller and on seperate thermometerHow to set the digital heater temp controller?When plug in, firstly press the button "Up" to choose the temp unit pattern,℃ or ℉.
Set the temp: press the button "Set" for 2-3 seconds until the set temp led flickering, then press the button "Down" or button "Up" to set the value to your desired temp, finally, press the "Set" button again to lock the value.
You can set the temp from 32℉to 104℉.
The controller will remember the last setting temp if power off occurs, but will change to the default unit ℃, when the power on again, you may need to reset the unit pattern to ℉.
The separate thermometer can detect a temperature from -68℉ to 140℉, the measurement accuracy is 0.2℉ plus or minus, very sensitive.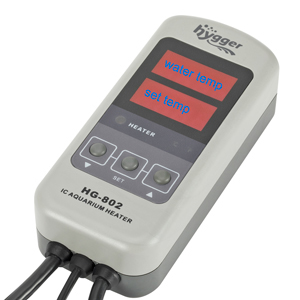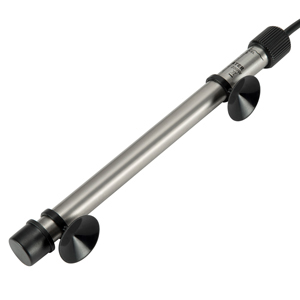 Directions for useFor better experience and safety, please carefully read and follow the user manual.
Please keep the heater fully submerged in water.
Place the thermometer away from the heater and keep water in circulation.
Place the heater horizontally near the water intake or on the way of water flow.
Please wait the heater tube to cool down before moving it or changing the water.
Don't bury the heater in sand or mud.
Please don't plug in before the heater is well installed.
Don't suggest for acrylic or plastic tank.
Please don't use the heater alone without the digital temp controller.
Once the controller occurs fault, please stop using it.
Choose the right wattage heater for your aqurium tankSubmersible heater size chart
Voltage: AC110-120V/60HZ
Wattage & fish tank size:50W (5-10 gallon)
100W (10-25gallon)
200W (20-45 gallon)
500W (60-120 gallon)
Generally, when we choose a heater for the tank, we can base on that 3.8 wattage to 7 wattage per gallon water.
When the weather gets cold and room temp is lower than 50℉, please choose a larger wattage heater than normal recommended.
The heater and controller power cords are the same length 5.5ft, the thermometer cord is 4.4ft, long enought for most needs.