Description
MINI MAGNET POWER HEAD WITH CONTROLLER
A smart wavemaker, build in LED display controller that enables to mimic ocean waves by setting various flow modes, power and frequency according to sunrise and sunset, day and night. 12V DC powered controllable wave maker, is energy efficient and safe to use. Create a ideal ocean-like environment for your saltwater aquariums.
• Simulates ocean reef currents by continuously circulating water
• Easy to install and detach magnet mounted
• 360 degree circulating water to whole tank back and forth
• Smart controller to create customized current
• Compact size, easy to hide
• 1600 gph powerhead for 3-25 gallon freshwater and saltwater aquariums
• 2600 gph powerhead for 26-55 gallon freshwater and saltwater aquariums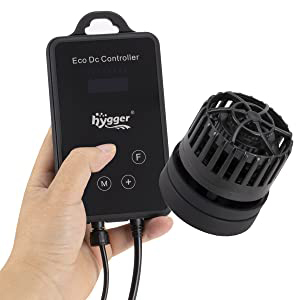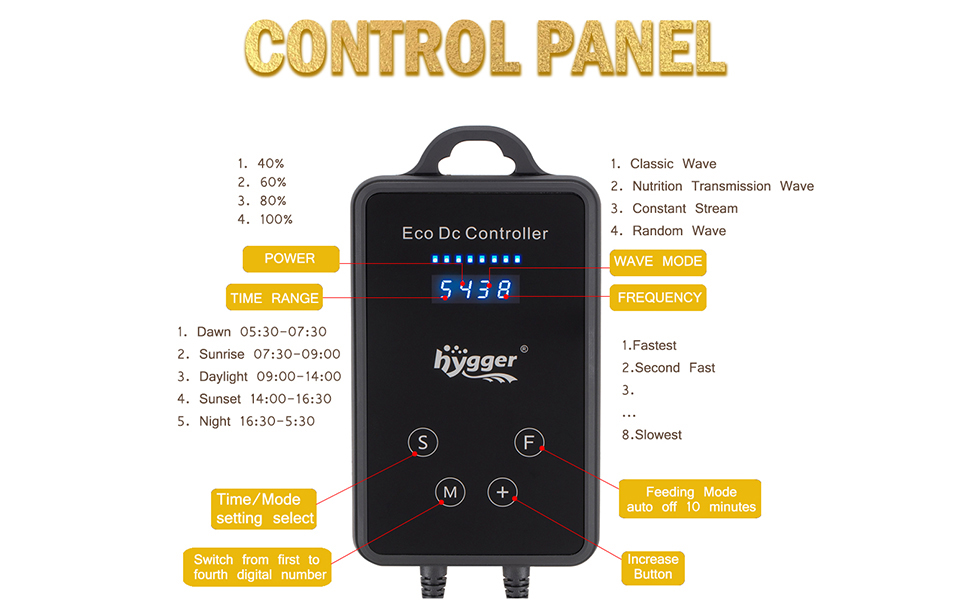 Notice: something need to know when setting the wave maker:
1. When adjust wave mode into 4 ( random mode), power and frequency can't be adjust. Such as 1040,2040, 3040,4040, 5040.
2. If you set wave mode into 3 (constant stream), frequency can't be adjust. Such as 5138, 5238, 5338, 5438.
3. When powerhead runs reversely, it means something twist around inside you need to take it out and clean impeller
4. Error code 7 means something stuck the impeller. You need to unplug it and take it apart to prod the motor fan in few circles, then restarts.
5. Also. remember to place the pump 6 inches below water surface. Too shallow water could also cause error 7.
Programmable Power Flow Mode Frequency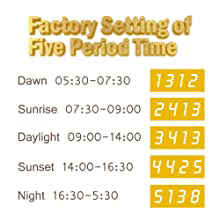 5 PERIOD OF TIMEThe default time can not be set. You can set each time with specific power, flow mode and frequency. Default setting see above image.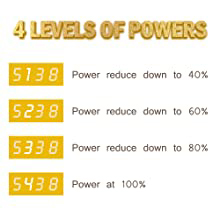 4 LEVELS OF POWERSThere are 4 levels of power to be set, from low to high: you can set from 40%, 60%, 80% and 100%.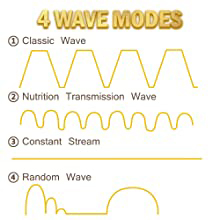 4 FLOW MODESThe third digital number indicates wave mode: 1. Classic Wave 2. Nutrition Transmission Wave 3. Constant Stream 4. Random Wave.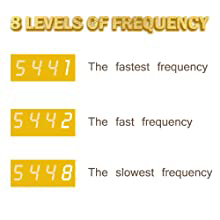 8 LEVELS OF FREQUENCYThe frequency is programmable, set from fast to slow, 1-8. 1 is the fastest and 8 is the slowest.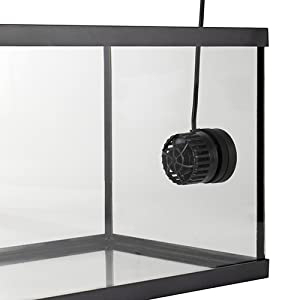 INSTALLATION
Position powerhead 15-20cm below water level. Make sure power head is fully submerged. Connect power head with controller with dc adapter. Plug in and ready to go. For detailed instruction of controller, please see user manual.
Maintenance:
1. Clean powerhead regularly to extend its service life.
2. Controller and adapter are not waterproof, please keep them dry.
3. Powerhead must be fully submerged. Do not run dry!
4. Only suitable for indoor use!