Description
Hygger strong magnet cleaner is a convenient tool to help you to clean without getting your hands wet, making a big mess or getting water everywhere. Great weekly magnet to clean alge!Features:
• Made of rare earth magnet, it carries so strong magnet that it will attached on the fish tank firmly and securely.
• The internal velcro-like scrubbing pad scrapes off tough stuff as move grip around the outside of the tank.
• Once detach from the external grip, the internal pad floats on the surface for easily retrieve.
• Comes with two different blades to get rid of tough stuff, plastic blade and metal blade.
• Magnetic cleaner will attached on the tank when not use it and ready to go anytime.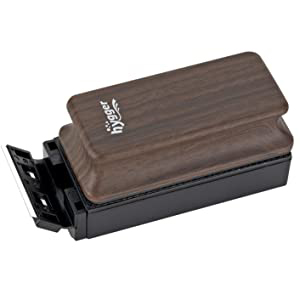 Aquarium Magnet Cleaner (Small)The whole cleaner is composed of two pieces: wood appearance grip and black scrubber pad.
There is two size available.
How to choose the right size?
It is all depends on the thickness of your fish tank.
Size Small, measures 3.7" L × 1.8" W × 1" H
Fits for fish tank glass thickness range from 1/5″ – 3/8″, recommend for 5 gallon to 50 gallon aquariums.

External Appealing Wood-Like GripThis ABS wood-like appearance grip adds a touch of nature to aquarium.
Ergonomical designed curved handle allows you to dig in hard spots.

Internal Scrubbing Pad
The scrubbing pad is covered in hook, velcro-like fabric which will scrub away stuff grows on glass

Slide smoothly
Covered in felt, the grip slides around the fish tank smoothly along as you clean.

Use CautionSimply rotate 1/4 turn to separate cleaner. Use caution with this very strong magnet.
Attention: do not put your fingers between it.
How to Swap Blade?
Swapping blade is simple and quick. See the right picture.
To take down the blade takes a little force: thumbs on both sides of the blade to push out.
Attention: be careful with your fingers while installation.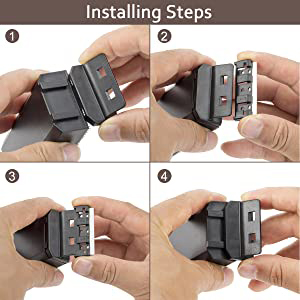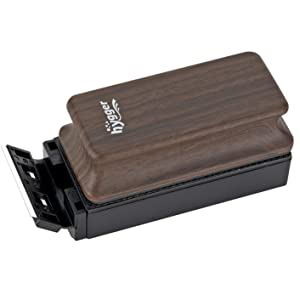 Instruction
1. Drop the black scrubber pad into aquarium. You can see it floats on the water surface
2. Pick up wooden grip and attach on the outside of aquarium, do not release your hand until the scrubber and grip stick to together, you can see the left photo.
3. When you pull the outside part along the glass, the inside cleaning part will pull along the inside of the tank and the alge is scraped off.
4. If you need to eliminate tough alge, you can take out the scrubber pad and assemble the razor blade. This tool could scrape alge off the tank effectively.