Description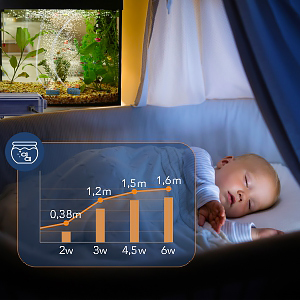 Three advantages of the Hygger Air Pump Series 037 model.
01Compared with the previous
air pump
, 037 air pump is smaller in size but stronger in power. Does not take up space.For family fish tanks, only one 037 air pump is enough to supply oxygen to pet fish.
02The oxygen output can be adjusted manually
You can adjust the appropriate oxygen output by yourself according to the number of fish you raise and the characteristics of the fish, which is more beneficial to the Neon tetra ,Goldfish or other fish.
03 Relatively quiet among air pumps of the same power
Generally speaking, the greater the power, the greater the noise. But our air pump of this model greatly reduces the noise by isolating the transmission path of the noise, achieving a more ideal mute effect.


01 2w-mini size air pump – without accessories.Single air outlet Air pump, if you already have air stones, hoses, check valves, when your fish tank height does not exceed 2.6ft, then you can choose this air pump.

02 3w-mini size air pump – with accessoriesThe choice of beginners for aquarium enthusiasts, a complete set of air stones, hoses, and check valves. And it is suitable for fish tanks up to 3.9ft and with a capacity of less than 50 gallons.

03 4.5w double outlet air pump – without accessories.Double air outlets can provide oxygen to two fish tanks at the same time, suitable for fish tanks below 4.9ft and below 70 gallons. Without accessories, for aquarium enthusiasts who want to buy their own favorite air stones.
04 6w double vent air pump – with accessories.Super powerful air pump, double air outlet, two air stones, two hoses, complete accessories, when you have a large fish tank, you can buy this. It is suitable for fish tanks with a height of less than 5.2ft and a capacity of less than 100 gallons.