Description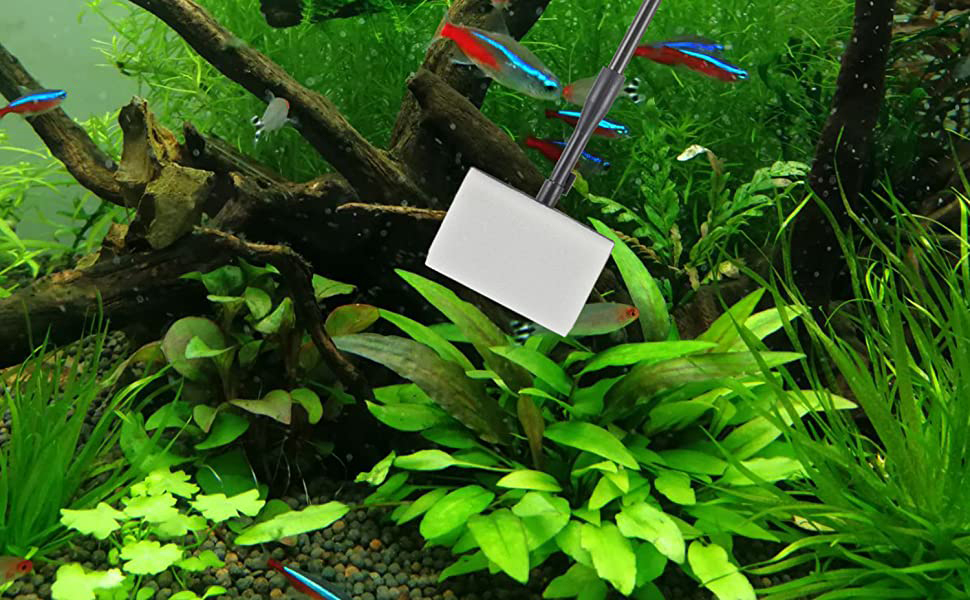 Multi-Purpose Cleaning Tool for Aquarium
This multi-purpose cleaning tool kit serves the purpose of cleaning, keeping your tank crystal clean, providing a health living environment for your fish and other aquatic inhabitants.
This clean set stands out from other brand cleaning tool carrying with below features:
-Made of premium material that is handy and long lasting, no flexing -Special snap closure attaches attachment tightly, so it won't drop into water bottom -Smart design with tiny hole of the pole avoids water go into it and cause mess -scraper is non-detachable, comes with a cover to protect hands from getting hurt -Razor blade is made of stainless steel, anti-rust can be used at saltwater, is thicker than normal blade -6 multi-purpose tools allows you clean fish tank like a breeze
6 Attachments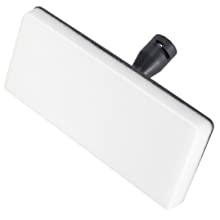 Flat Sponge
Material: carbon fiber composition + polyurethane
It is for cleaning the glass and the substrate, can be ROTATED to 90 DEGREES to all direction cleaning.
Right Angle SpongeMaterial: carbon fiber composition + polyurethane
An effective tool to help you to clean
up hard reach corners and under the rim.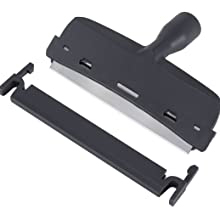 Razor BladeMaterial: carbon fiber composition + stainless steel
This razor blade is anti-rust, can be used at saltwater. It is non-detachable and a cover protect from
getting hurt.
This blade is only for glass tank.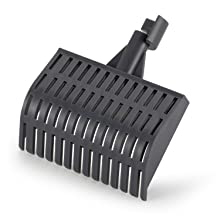 Gravel RakeMaterial: carbon fiber composition
This tool is for raking the soil and cleaning gravel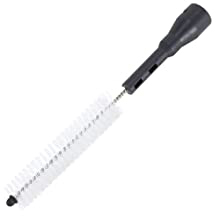 Tube BrushThis tool is not common to see but is very useful, it helps to clean pipe and hard reach corners.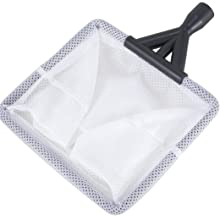 Fish NetThis 4-inch fish net is perfect for catching small fish, shrimp, crab, snails, aquatic frogs and cleaning debris.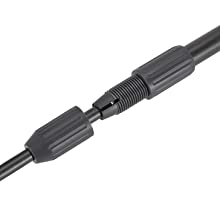 Telescopic HandleCarbon fiber composition constructed pole is durable no flexing, it extends from 19.7 inch to 35.4 inch, reach up to 2.65ft deepth aquarium.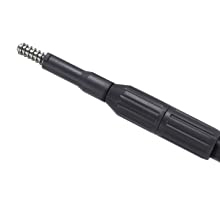 Spring ClosureUpdated spring closure make sure attachment won't fall off and works together. Easily attach on and off.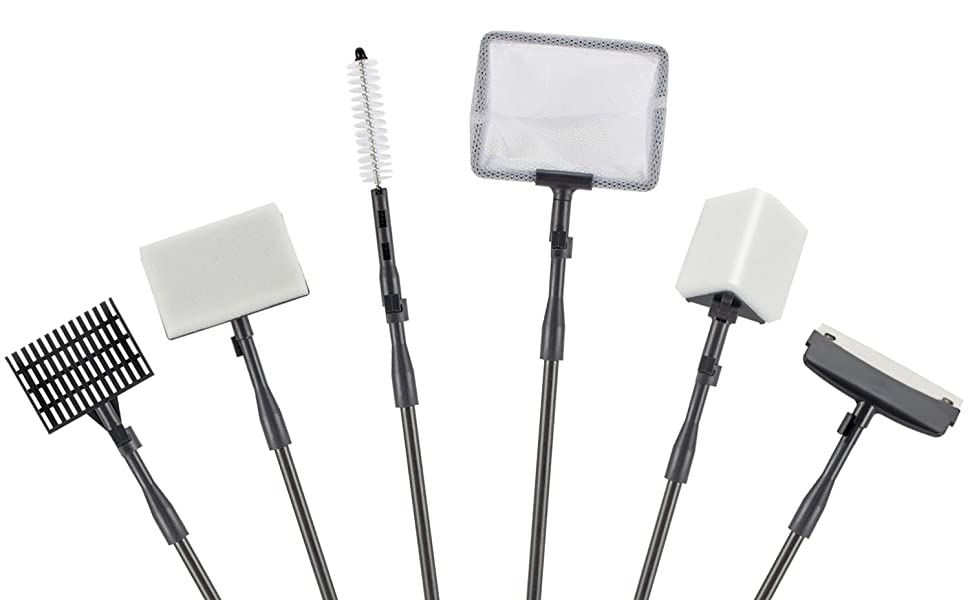 Attention:1. Please be careful with the blade, it is sharp. This blade is only use for glass tank.
2. Please rinse the razor in water and remove excess water, do not cover it until it dry.
3. Please wipe in the same direction when using flat sponge and right angle sponge, rinse it in water, do not wring or squeeze.
4. This is not a toy. Keep out of reach of children.
5. To maintenance your aquarium, we suggest to clean aquarium once a week.
6. This cleaning kit is recommend only use for home aquarium.