Description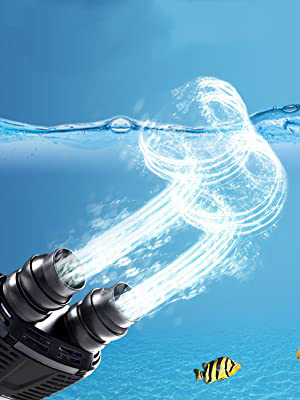 16 Watt Strong Current Flow Circulation Pump
for 75-130 gal
Hygger makes a fully submersible powerhead that cycles 2000 gph. It creates powerful, strong water current flower for large aqarium range from 75 gallon to 130 gallon fish tank. It greatly helps plants, corals and even your fish to thrive. Aquarium circulation pump is suitable for marine, tropical and freshwater setups.
• Simulates a strong currents of the ocean to create similar water environment by continuously circulating water
• Stir up the debris, clean up spot of the fish tank in conjunction with filter.
• Dissolve more oxygen in the water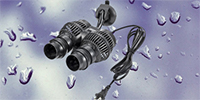 Specifications:
• Power: 16W
• Q/Max: 8000 L/P
• Voltage: 110v-120v/ 60Hz
• Dimensions: 5.1″ X 2.8″ X 9.3″ (130mm*70*235mm)
• Cord length: 9.1 ft /2.8m
• Capacity: 75 gallon to 130 gallon aquarium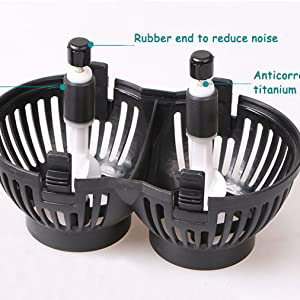 Impellers• titanium impellers constructed, it can be used at saltwater aquarium as well as freshwater.
• Rubber end ensures less noise reduction, keeps it quiet while running.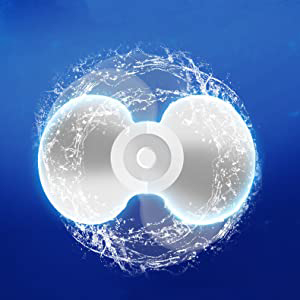 Submersible & Oil Free Motor• It is fully submersible and oil free motor
• Creates strong current for fish to swim up and down
• Clean up every corner of the tank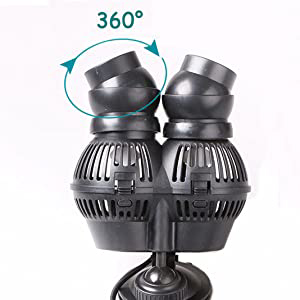 360-Degree Rotation• You can turn sphere joints in any postion so you're able to really fine tune the water flow.
• Magnet suction cup support allows for free positioning
Troubleshooting• Only one fan works / LoudIt happens when the impeller out of the track. As two impellers stand loosely at the base, after long time using or impact, it will out of the track and stop working.
Unplug the wave maker and take it out. Take the pump apart and take out impellers and put them back into the base again. Restart it.
• Suction Cup not stayContact hygger for new suction cup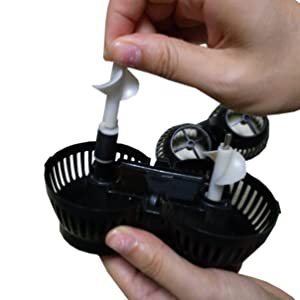 How to install?Follow the instructions below:
Clean the glass where you will place the suction cup
Find a good spot and attach the locking mechanism
Plug in power and you are good to go
Attention:The powerhead should be fully submerged. Otherwise, working pump comes out water surface and make noise.