Description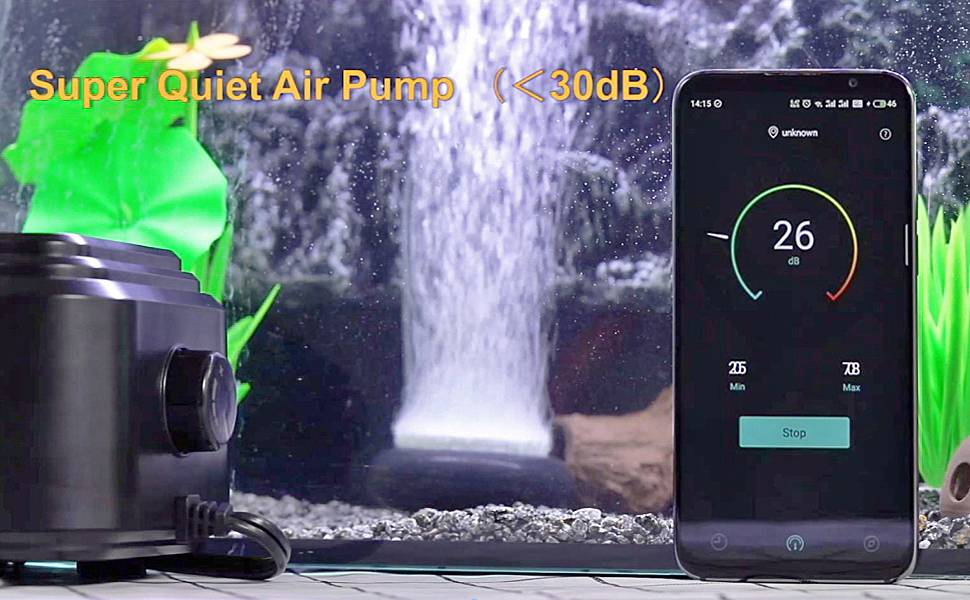 6-step Quiet (<30dB)
ABS plastic cover, sealing machine noise;
Noise reduction motor to reduce wind resistance and reduce noise;
Suspended motor, the motor, and the casing are not in contact with each other to prevent noise;
Stainless steel cover, locked motor sound, greatly separating mechanical noise;
Internal support feet, the motor chamber does not touch the bottom of the casing, reducing noise again;
8 bottom rubber shock absorber feet to reduce vibration of the pump body and bearing surface.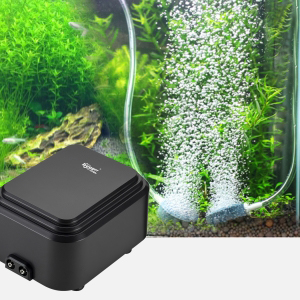 Product Specifications:• Air Flow:255GPH
• Power:10W
• Weight:1.22KG
• Nosie:<30dB
• Pressure:0.04Mpa
• Power cable:6 feet
• Stomata:Double Vent
• Voltage:AC 110V—120V 60HZ
• Application:up to 600 Gal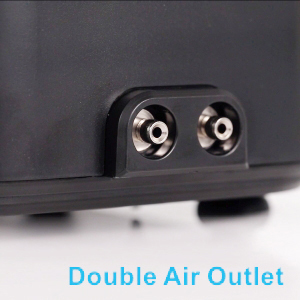 Double Air Outlet It's easy and simple to use 2 air discs or aerobic filtration equipment together.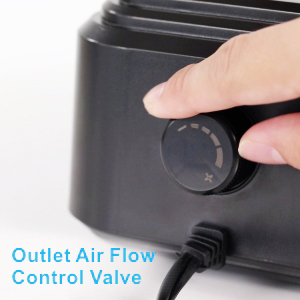 Adjustable flowLow air output: dense air bubbles, suitable for small and medium fish tanks or a small number of fish.
High oxygen output: The bubbles are even, suitable for large tanks or a large number of fish.
Note:The volume of the two air holes is almost the same, and there is not much difference.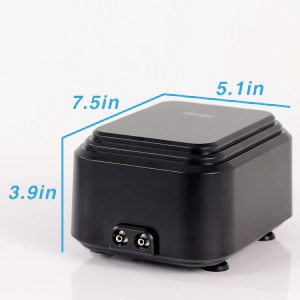 Products include:1 x adjustable dual port air pump
1 x user manual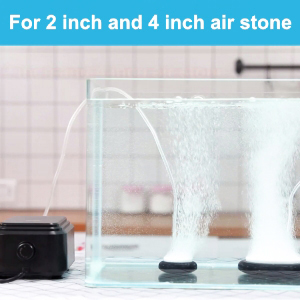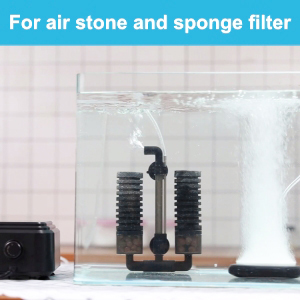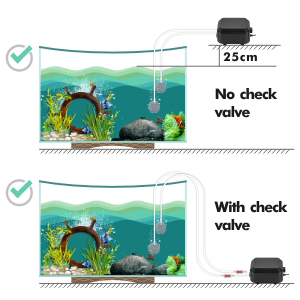 Warm Tips:
1. The pump is NOT SUBMERSIBLE, please do not put it into the aquarium. Keep it dry.
2. No check valve, the air pump should be placed above the water level of the fish tank(about 25cm).
3. With a check valve(Hygger not included), the air pump can be placed below the water surface or placed on the table. The check valve (note the installation direction) can prevent the water from flowing backward.
4. To get the maximum airflow and extend air pump service life, we suggest cleaning airline tubing and airstone regularly.
5. Note: This product does not include any accessories.
6. 5W air pump: It is not recommended to connect less than 3 devices at most, and cannot exceed 5 feet water depth.
7. 10W air pump: It is not recommended to connect less than 4 devices at most, and cannot exceed 6 feet water depth.