Description

Hygger will change your view!
This aquarium kit can be a great decoration for your home or office.
You can put 1 to 5 small fish that is long than 2 inch or a small turtle or you can just keep one betta in this tank.
Hygger 8 gallon curved glass fish tank kit is perfect for aquarium starters, hobbyist. Suitable for fresh water or salt water aquarium.
The aquarium kit includes the basic needs for aquarium starters: one 8 gal glass tank with 3D background decor, one power filter pump, one strip aquarium led light.
Easy to set up and maintain, this glass fish tank is no need special stand, there is a cushion pad stick on the bottom to prevent slide. Just place the tank on a flat table.
Please NOTE: we don't suggest to keep too small fish in the tank if you want to run the power filter, the filter may be too strong for too small fish, they may get sucked in the filter. Fish long than 2 inch would be ok in the tank.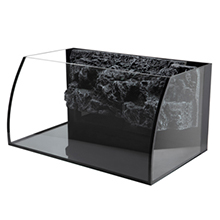 Hygger 8 Gallon Glass Tank• Unique convex arc curve shape, widen your view on the aquarium and can hold more capacity of water.
• No need stand, there is a cushion pad stuck on the bottom, or you can buy an extra rubber pad for it.
• Without aquarium cover, easy to install an automatic fish feeder on the tank wall.
• With an undetachable 3D rockery decor as the background.
• Durable and ultra-transparent glass.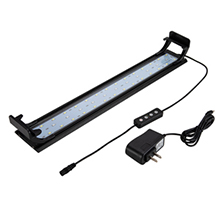 Hygger Colored Aquarium
Led Light• 18W bright energy saving aquarium light. Input: AC 100-240V 0.5A, 50/60Hz. Output: DC 12V 1.5A.
• High quality light, it's durable and with excellent waterproof property, no water drops will go in it.
• Adjustable: extendable mounting brackets, 5 levels of brightness, 3 light led color modes.
• Dimensions: 17.5 inch in length, 3.2 inch in width, 2.6 inch in height.
• Easy to set the lighting time, 3H/6H/12H.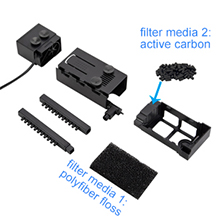 Hygger Low Water Power
Filter Pump• Ultra quiet and energy saving 7W 110GPH internal power filter. US plug, 110-120V/60Hz.
• Can be used for low water filtration, support vertically or horizontally installation.
• Easy to install and use, water flow is adjustable, with 2 rain shower tubes.
• Two stages filtration provides crystal clear water for your aquarium.
• Dimension: 6.8 inch in height, 2.4 inch in length, 1.6 inch in width.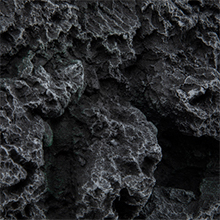 Hygger 3D Rockery
Mountain Decor• Non-toxic resin material made, light weight, 100% imitation of rockery, hand made, very detailed.
• The rockery decor is firmly fixed to background of the tank, please note it's unremovable.
• Creates an mysterious underwater world for the aquarium, no need buy other decorations.
• Provides a great shelter, rest, play place for your fish ,small turtle or shrimps.
• When clean it, we suggest to use strong water strip to hose the surface and brush to clean the bottom.
Premium Glass FishTank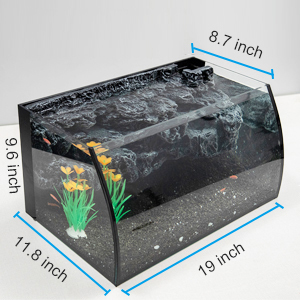 Tank Size• Tank dimension: 19″ L x 11.8″ W x 9.6″ H, the upper width is 8.7″.
• Tank volume is 8 gallon, can hold 6 gallon water. Weighs about 68lbs when full of water.
• The front side is convex curve shape, will give you a new and wide view, and it will become a focus in your home room or office.
• If you want to use gravels or sand to to fill the tank bottom, you may need at least 3 pounds of that.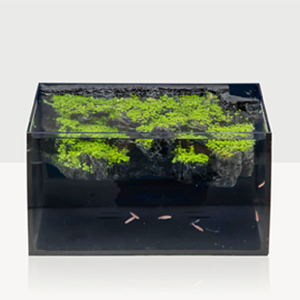 3D Background Decor• The decor is special designed size for this tank, firmly stuck to the back board by waterproof glue.
• Makes the whole fish tank looks like a dream word underwater.
• You can grow green grass on the mountain, when the grass grow up it will make your aquarium more lively and beautiful.
• It provides a good place for small fish, shrimps, turtle to rest, play and hide.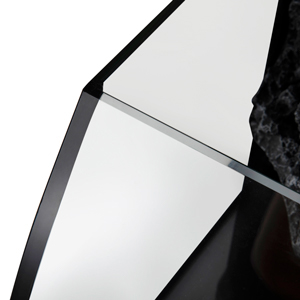 Durable Premium Glass• The glass we used is durable and ultra-transparent, the thickness is 5mm.
• The 3 glasses and 2 plastic boards are combined by high-quality non-toxic glass glue and black plastic rims, no water leaking out.
• You can install an automatic fish feeder on the side tank wall.
• We use reinforced packing to protect the fish tank from damaged during shipping.
Colored Aquarium Led Light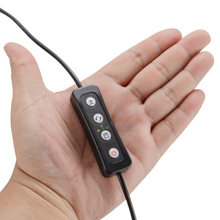 External Light Controller• The first button is for changing light brightness: 100%-77%-55%-32%-10%.
• The second button is for shifting light modes: White LEDS, Blue+white+red LEDS, Red+ blue LEDS.
• The third button is for lighting time setting: there is an indicator light above it. Yellow -3 hours, green-6 hours, red- 12 hours. When it reaches to the set hours, the light will stay at the lowest brightness instead of turn off.
• The last button is on/off the light.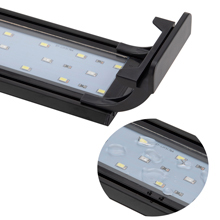 Good Quality Aquarium Light• We use waterproof glue to fill the seams, can prevent water drops from going into the light.
• Please note this is not a underwater use led light, don't put it into water, accidently falls in water for a moment will not damage the light.
• The LED light can last up to 20000 hours of lighting.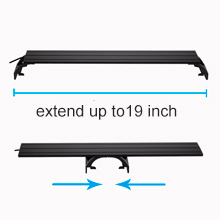 Extendable Mounting Brackets• The light mounting brackets are sturdy and durable.
• The 2 brackets can freely move from one side to the other side, it makes the light extendable. The extend distance can be from 0 to 19 inch.
• You can use this light on your other tank.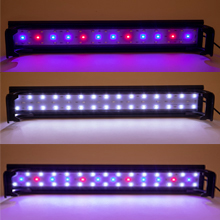 3 LED Light Modes• 3 light modes: White LEDS, Blue+white+red LEDS, Red+ blue LEDS.
• nder each light modes, you can adjust the light brightness.
• The white led light is for daytime use. Simulate natural sun light to help plant growing.
• The other led color light is for night time use, make the underwater word more colorful.
Adjustable Power Filter Pump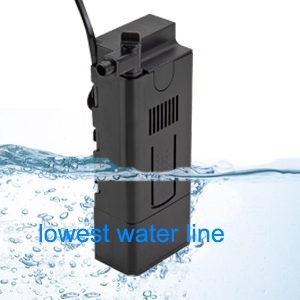 Low Water Filter• This aquarium power filter pump can work in low water, as long as the water line is higher than 2.5 inch (1/3 of the filter height).
• Has an excellent water filtration, it will keep your aquarium crystal clear.
• We suggest to let the filter run 24 hours before putting fish or other pets into the new tank.
• You can change about half of the water once every 1-2 weeks.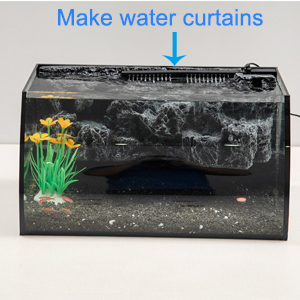 Ultra Quiet Water Noice• Adjust the water flow by rotating the knob at the top of the filter.
• It's compact size, in our this fish tank, we specially designed a hole at right corner to place the filter.
• It comes with 2 rain shower tubes to reduce the water noice and also make water curtains.
• Support vertical or horizontal installation when you use this filter in other tank (2-8 gallon).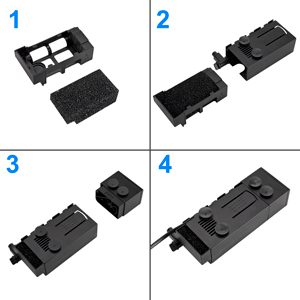 Easy to Take Apart and Combine• You can easily to take the power filter apart by hand to do regular cleaning.
• The upper part is the 2 stage filtration system, the bottom part is water pumping system.
• You can clean the floss media and replace the active carbons.
The cable length of this filter is 4.3ft.