Description
SUN MODE (Daylight Lighting Settings)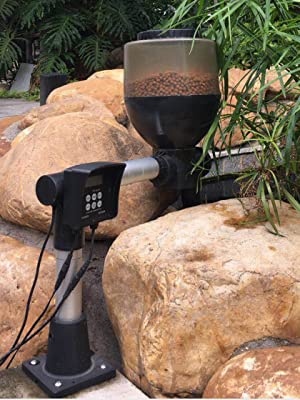 Hygger Automatic Fish Pond Feeder ensures your fish get fed while you are away!
Hygger Auto Pond Feeder is an ideal solution to take care of your fish while you go on a vacation or business trip. With the Hygger Pond Fish Feeder just set the desired time and feeding frequency and the feeder will dispense the accurate portions on scheduled time. It requires to be mounted at wooden/ stone/ceramic floor with feeding port point to water surface. Made from plastic base, food bin and metal tube , weatherproof. It is designed for pond for use with pellets and stick food.
• Easy to install, use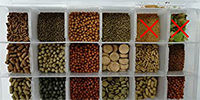 Fish Food Type
For most types of pallets or sticks. Not for flake or fish food diameter less than 4mm. Recommend for use with
4-10 mm pellets or sticks.
ATTENTION:1. DON'T get the feeder wet or it will be damaged! Just wipe clean.
2. Do not put fish flakes or less than 4mm fish food into the food bin. It is unable to dispense flake food. Less than 4mm fish food will be dropped out ofthe feeder right away.
3. Do not installed the feeder in the mud! It requires an electric drill to drill 4 holes on the stone/wooden/ceramic floor, and fix the base on the ground with screws.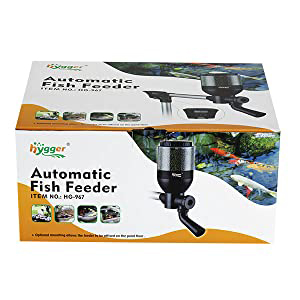 LARGE CAPACITY FOOD BIN Storage food bin measures 10.6″ H ×7″ Dia, it can holds fish food up to 5 lbs which can last up to few weeks feeding depending on how many fish you have and how big they are.
DISPENSE FOOD AUGERS Two shaped augers for your option according to the feeding quantity. Sparse auger dispenses more food than dense auger. For example, one portion 6mm pellets drops approx 11 grams through narrow auger. While through wide auger it drops 36 grams food.
Supper easy to REPLACE auger. Just open the lid and replace it with the auger you want and close the lid.CLIP ON CONTROLLER Easy to program controller, build-in clock, feed portions and timings can be easily set up and adjusted within minutes. Once finsih the setting, hang it on the pole of feeder.
• up to six daily feed times
• from 0-9 portions each time
• lasting 8 seconds each portion
• manual feeding button for instant feeding
• NOTICE: CONTROLLER IS NOT WATER• PROOF. Take a shelter to protect it from rain/snow.