Description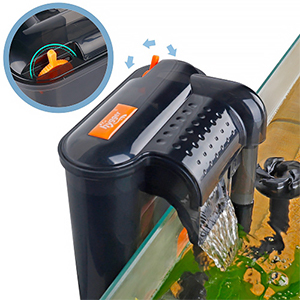 Freely adjust the amount of water flow.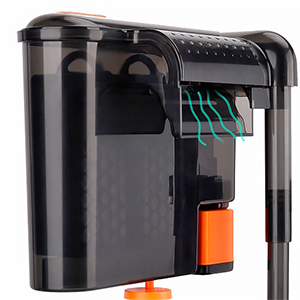 Wide mouth water outlet, wave design, create a waterfall water effect and increase oxygen.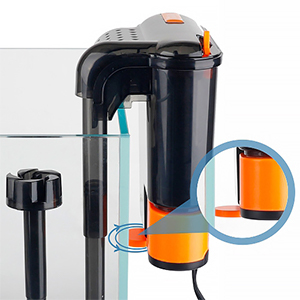 Shockproof footpads. Reduce the noise generated by collisions.
PRODUCT DETAILS – 2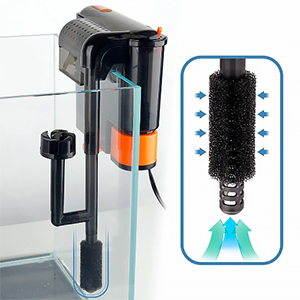 Filter sponge cover, it is not easy to block and prevents small fish from being inhaled.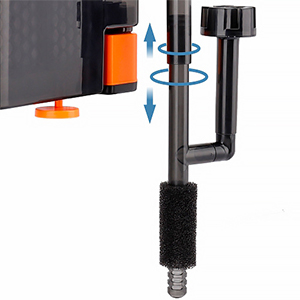 Retractable water inlet tube. Adjust to the proper position according to the depth of the water and need. Suitable for different water level.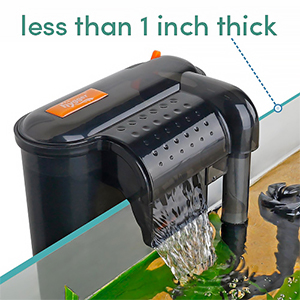 Hang on outside the tank wall, does not occupy the space inside the tank, does not affect the landscaping of the tank, and the running pump will not disturb the aquarium pets.
PRODUCT DETAILS – 3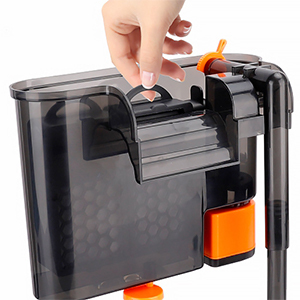 Easy to clean and maintain, just open the lid and take out the filter box.
Recommended for cleaning the filter with tank water every 2 weeks or 1 month.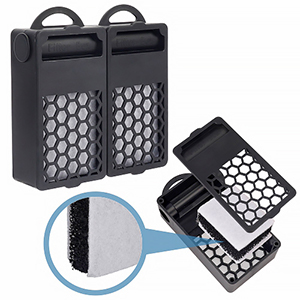 Replaceable thickened filter box, the filter material inside can be replaced, and can also be freely matched with other materials.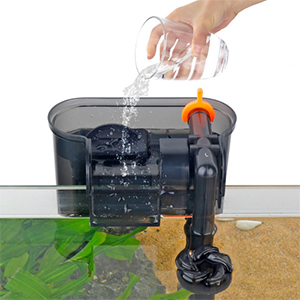 Please fill the filter chamber with water before using, the pump cannot work without water.
Factors Affecting Rotation of Oil Film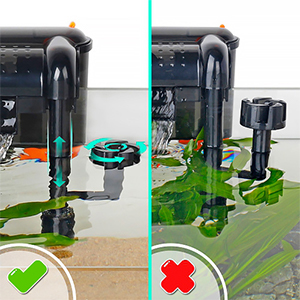 Surface skimmer, rotatable design, run by the water flow. The oil film impurities are sucked into the whirlpool mouth, and the water surface is cleaner.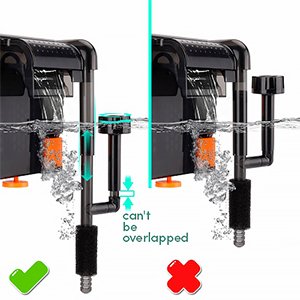 If the oil film does not rotate, please note that the oil film pipe is overlapped with the water pipe.
Keep: Normally, there is a certain height difference between the oil film and the water pipe.
Do: By adjusting the water level pipe and the water level in the tank.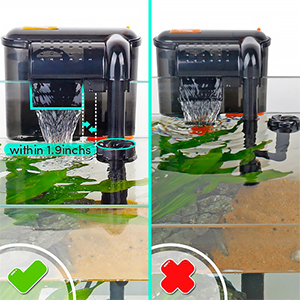 If the oil film does not rotate, note the effect of water flow in the tank. There are the following reasons for not rotating.
The water flow was adjusted to very small.
The oil remover is too far from the waterfall.
There is no other water circulation equipment in the tank.
PRODUCT PARAMETER
• Model: SIZE S / SIZE M
• Voltage:AC 110-120V / 60 Hz
• Power:4W /5W
• Q.Max:100GPH / 127GPH
• Sound:<30 dB
• Cord length:5.9FT
• Application:5Gal~ 8 Gal / 9Gal~ 16Gal
• Dimension:6.1″×6.88″ / 8.26″×6.88″