Description
Hygger led aquarium light with extendable mounting brackets is specially designed for most fish tank (18-52 inch) use. We use 5730 Leds, more bright and energy saving, soft light will make your aquarium water looks sparkly clean, the colorfull fish under the water looks more bright and beautiful.
Please note this light is not auto turn on or off, when it reaches to the set lighting time, the light will turn to lowest brightness and stay at that brightness, about 10% of top brightness.

Other features of hygger aquarium led light:The whole light shell is aluminum alloy metal, nice touch feel, fast heat dissipation.
Comes with 2 kinds of extendable mounting brackets.
External controller has memory function when timer is off in case of power-down.
You can set light time to 3h, 6h, 12h. 24 hours is a cycle.
3 light modes: white leds, blue+white leds, blue leds.
Under each light color modes, you can adjust the light brightness for 5 levels.
Easy to install on covered or uncovered, with rim or rimless glass or acrylic fish tanks.How does time setting work?Please note that when it reaches to the set lighting time, the light will not turn off, it will keep at the dimmest levels.Specifications:Output: DC 12V
Input: AC100-240V
Frenquency: 60HZ
Kelvin: 9000K
Cable Length: 5ft +1.8ft
Extendable & durable aquarium led light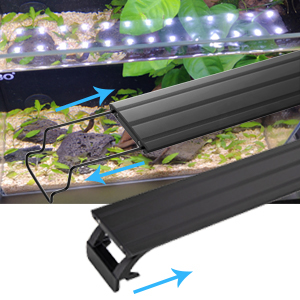 2 kinds of mounting bracketsComes with 2 pairs of mounting brackets, one pair is the metal bracket, the other pair is plastic bracket.
Metal brackets: extendable length for each side is about 5 inch.
Plastic brackets: when use this brackets, it can't extend too much, but it can short the mounting length to very short.
The mounting brackets make the light can be used most tanks, with covers or not, with rim or rimless.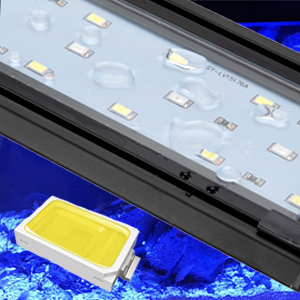 Good waterproof & durable led beadsAcrylic baffle to prevent water drops in. No steam.
We use waterproof glue to fill the seams, can prevent water drops from going into the light.
Please note it's not a submersible led light, don't put it into water.
We use large 5730 led beads, more bright and energy saving. The LED light can last up to 20000 hours of lighting.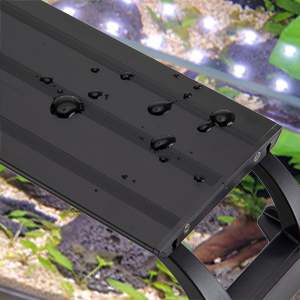 Aluminum alloy metal shell The whole light shell of hygger aquarium light is aluminum alloy metal, nice touch feel, fast heat dissipation.
Some other aquarium lights on this market may use plastic shell, may have shorter service life time because of poor heat dissipation.
Metallic luster, black color and one hand hold width make you like this fish tank light Love at first sight.
Ajustable led aquarium light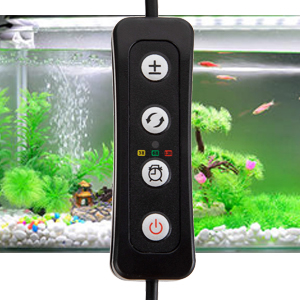 Simple external controllerThe first button is for changing light brightness: 100%-77%-55%-32%-10%.
The second button is for shifting light modes: White Les, Blue+white Leds, Blue Leds.
The third button is for lighting time setting: there is an indicator light above it, it will turn 3 colors in turn when you press the button. Yellow -3 hours, green-6 hours, red- 12 hours.
The last button is on/off the light.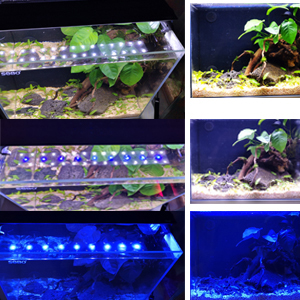 3 led light color modes3 light modes available: White LEDS, Blue+white LEDS, Blue LEDS.
Under each light mode, you can adjust the light brightness from 100% to 10%.
The white led light is for daytime use. Simulate natural sun light to help plant growing. Makes the plants looks more beautiful under clean water.
The other led color light is for night time use, make the underwater word looks blue.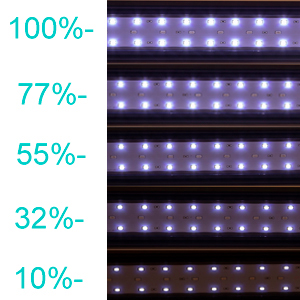 Adjustable brightness5 levels of light brightness available.
By set the time button you can change the light brightness from 100%-77%-55%-32%-10%.
Combine with the time setting function, you can make it to simulate the light changes of day and night.
For example, if you set it at the 100% brightness and set the lighting time for 12 hours at AM 6:00, the light will trun to the lowest 10% brightness at PM 6:00.