Description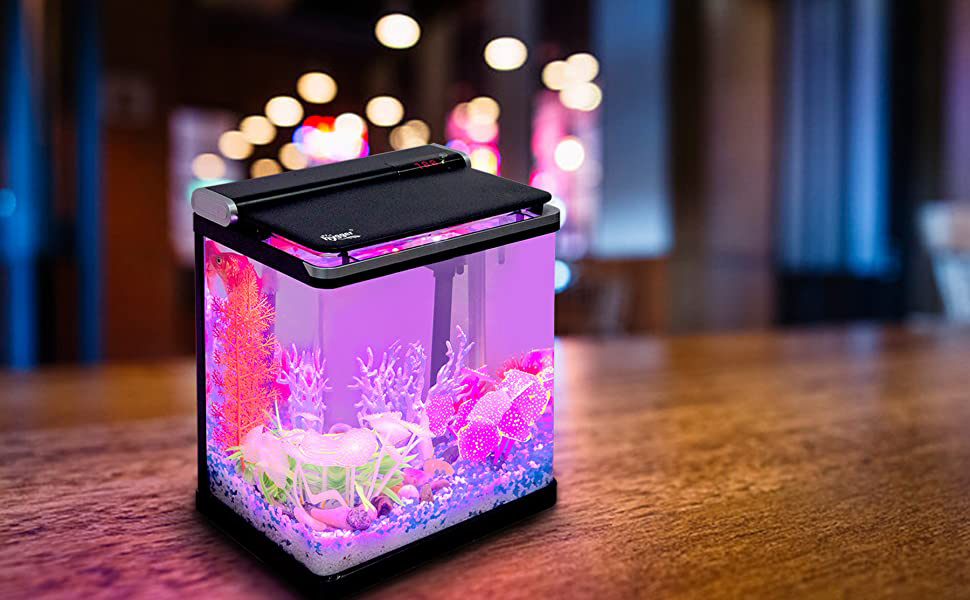 Smart Touchscreen Aquarium Starter Kit
Add a splash of life to your home with Hygger 4 Gallon Glass Fish Tank. Made from 4 mm thick, scratch proof glass with black grey plastic trim, elevated base and plastic lid. Contemporary look that will fits any room with limited space such as desktops, countertops or offices. Equipped with advanced touch screen 14-bulb lighting hood which will emit shimmering white daytime and relaxing moon light effect for fish and plant. A perfect nano tank for house coral reef, small tropical fish and plants. A great gift for your families and friends!
Features:
Build in temp probe, LED digital number shows real time water temperature, digital LED display is easy to read
Touchscreen to switch 4 lighting modes to create ideal lighting for fish and plant
Flip lid for easy feeding
Utilized as betta tank, Planted Tank and small tropical fish freshwater tank
Modern look fits any room with limited spaces
Comes with water pump to create circulation and filtration
Bio filter cartridge to filter out crystal clean water
Notice: DO NOT WASH LID, it is not waterproof. Use dry towel to wipe clean.Aquarium Starter Kit Includes:
1× Mini aquarium glass tank with LED Hood
1× Submersible water pump
2× Filter media cartridges
1× User manual Note that gravel, fish and other decorations are not included.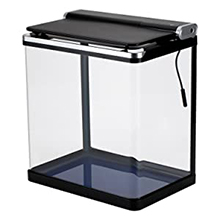 GLASS AQUARIUM• Material: 4 mm thick glass+plastic trim
• Dimension: 11.2×7.5×12.6 inch
• Weight: 5.2 pounds
• Range of temp show: 000-999℉
Compact, temporary looking fish tank that completes any limited rooms offices, kitchens and bedrooms. 4 gallon tank holds 3 gallon water, leaving a little space for the gravel and light. A great starter kit for fish keepers with low maintenance. Comes with filter pump, light hood and filter cartridge. Add gravel, plant and fish to complete your aquarium!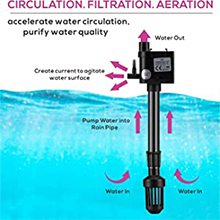 14 BULBS LIGHTING SYSTEMDimension: 7×1.2 inch, Power: 7 W, Voltages: 100-240V, 50/60Hz
Length of wire: 5 ft
7 white bulbs, 4 red bulbs, 2 blue bulbs and 1 green bulbs
Loaded with a touch LED hood, 4 touch settings. Simple one touch to switch lighting modes from bright to dim. Connect it with 12 V, 0.265 A adapter. You can replace it with any 12V adapter up to 1 A.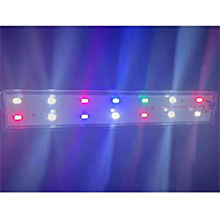 FILTER PUMPPower: 3 W, Voltages: 110V, 60Hz, H.max: 1.64 ft, Q.max : 106 gph
Size: 12.8"×2.8"× 1.2", Weight: 0.5 lbs
Enables three functions simultaneously: filtration, water circulation and aeration.
Notice: water flow is non-adjustable. Water flow might be too much for betta fish. You can cut a tiny piece of filter pad to stuck into the outlet to slow down water flow.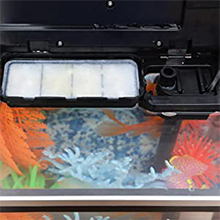 Filter Bio Ball Box The filter box loads with bio balls. Water pump transfer dirty water to the top of the filter box, filter box traps small particles and filter out clean water back to fish tank.
It measures 13.8 x 6 x 1.5 cm, 75 gram each.
For best results, it is recommended that you change filter cartridges every 2-3 weeks.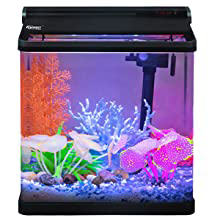 Shimmering White Blue Light7 white led bulbs
4 red led bulbs
2 blue led bulbs
1 green led bulbs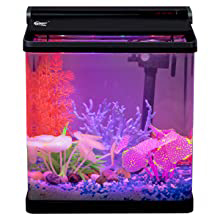 Relaxing Moon Light2 white led bulbs
4 red led bulbs
1 blue led bulbs
1 green led bulbs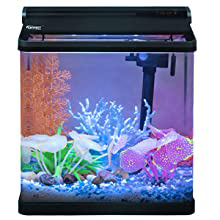 White Light5 white led bulbs
1 blue led bulbs
Dim White Light7 white led bulbs
4 red led bulbs
2 blue led bulbs
1 green led bulbs